WHO ARE WE ?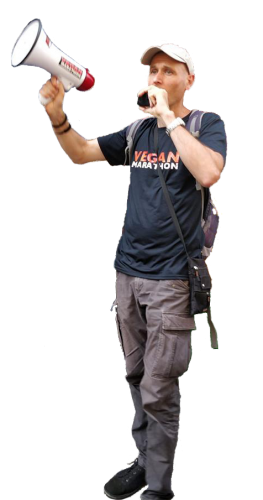 VEGAN MARATHON is a non gouvernemental organisation with ambassadors in every continents. It's also the biggest team of vegan and vegetarian runners.
Participate to its story is beeing a part of its legend - Become a part of the legend by joining us !

VEGAN MARATHON runners are pacifist warriors. Their tool is their own body. They modeling and shaping it so they can face pavement, tar, dirt road and bridges. Whether it's on roads, country roads, at the sea or by climbing moutains, they run and walk to make the world aware of beeing sensitive to the animal cause. VEGAN MARATHON is a progressive organisation which is against every forms of discrimination, extremism or violences against human beeing, animals and environment.
Runners of every ages and levels
VEGAN MARATHON is an open team where you can find runners of every ages and levels. They have one goal : Defend the animal cause.
They don't only run for themselves, they also run for a commun purpose. When they wear the colors of VEGAN MARATHON they represent the team in its unity and diversity.
You can join us, whatever your level is.

Janette Murray, championne du monde de Marathon

Alan Murray, champion du monde de Marathon

Fiona Oakes,
4 records du monde de Marathon

Morhad Amdouni, double champion d'Europe (10000 et 5000 mètres)
In VEGAN MARATHON, the elite of mondial running, you can easily find seasoned runners, professionnals, amators and some anonymous runners. They are all vegetarians or vegans.
One of the famous athlete in VEGAN MARATHON is Fiona Oakes who has three mondial records (Antarctic Marathon, Ice Marathon an North Pole Marathon).
Another example of famous athletes you can find in VEGAN MARATHON is the couple formed by Janette and Allan Murray. This couple is over 60 years old, they are vegan and by the strengh of their mind and body, they became champions of the world by running 366 marathons in 366 days, in Australia in 2013.
They shout "AIO" which is a shout of gathering. You can hear it in every important events, like competitions. It means "I assert" in indou-european language.



GEORGES LARAQUES athlète végane,
professionnel de hockey sur glace

Gabou, age 94, Dean of the runners of VEGAN MARATHON
OUR STORY
The origin of this aventure takes place in the middle of the Mediterranée in the 90's, when Maga Ettori and a passionate group established in Ajaccio the Institute of Sport and Vegetable Food (INSAVE in french) and The Warriors, a omnisport club.
The substructures have involved the same way. In 2012, the project of gathering all the vegan and vegetarian runners of the planets become real. A new organisation is born : VEGAN MARATHON.
WARRIOR becomes VEGAN WARRIOR in 2018 to merge with VEGAN MARATHON on April 6, 2019 on the occasion of the International Day of Sport for Development and Peace.
More and more members have joined VEGAN MARATHON, which has become a non gouvernemental organisation in every continents.
The colors of VEGAN MARATHON are now known and recognised in every national and international competitions.
FINISHER
In 2018, VEGAN MARATON has become the official partner of Mathon of Paris. 44 runners came from all over the world to run under the colors of the group. They became a part of the legend by ending the marathon. In october 2019, the documentary "FINISHER" came out : it deals with this famous run and the story of VEGAN MARATHON.
Since the Marathon of Paris, a lot of new people have joined the team VEGAN MARATHON. The story of VEGAN MARATHON is writing itself with them, with you for the animals.